Whether you are hiking a mountain, backpacking the world, or are a Digital Nomad traveling with a laptop – Osprey has a backpack for everyone, and the Porter 46 is one of their best!
But with so many backpack options… how do you know which one is perfect for you?
Worry not! That is exactly why we made this ULTIMATE Osprey Porter 46 Review!
Here at OWG we are backpack experts, and this insider review will show you every pro and con the Osprey Porter 46 has!
With the help of this buyer guide, you'll be able to easily decide whether or not this bag fits your style (and budget!). And if this isn't the backpack for you, we'll show you exactly which backpack is perfect for you.
Let's jump into the best Osprey Porter 46 review on the web!
Quick Answers – The Osprey Porter 46 backpack IS for you if…
You want a carry-on backpack

– Though it won't fit ALL airlines, this rucksack has the size specifications that mean it's going to be carry-on sized for a lot of airlines. That means you won't have to go through the headache of baggage claim when you first arrive somewhere – or pay money to check it in!

You're a fan of simple design

– The Osprey Porter 46 looks like a regular rucksack. It's not too hike-y or outdoorsy and suits you if you don't like your backpacks to be trailing a lot of straps and different external compartments. It's neat and tidy.

You like to travel in cities

– Thanks to the simple design and the size of the bag itself, you won't be standing out in a city situation. The Porter 46 pretty much just looks like a normal, everyday backpack: especially if you get it in black.

You're a digital nomad – With a ton of organisational space, including a laptop

and

tablet sleeve, and lots of room to compartmentalise, this is a DREAM for those who travel with electronics or a lot of kit.

You go on a lot of short trips – Being just 46 litres, it's bigger than most "carry-on" backpacks, but

so

much smaller than backpacking bags, so you'll be able to pack for a long weekend or maybe up to a week (maybe more?), making the Porter 46 a good one for short tips.
Quick Answers – The Osprey Porter 46 backpack is NOT for you if…
You want more organisation – 46 litres is big, but if you're going somewhere cold and you need loads of layers, or you don't like travelling without outfit options, or you have a lot stuff that you take you for work, you might want with more organisation. If you dig organisation, the Nomatic Travel Pack is for you. 
If you want something more compact – On the other hand, you may want something that is 100% guaranteed to be accepted as carry-on luggage for ALL airlines, including budget ones. To save you from uncertainty, try the Nomatic Backpack or the Osprey Talon 33.
You're all about hiking and the great outdoors – The Osprey Porter 46 is just not made for outdoors activities. There aren't sleeping bag compartments, hooks for your ice picks or space for your water reservoir. If you want to hike BIG, go with the Osprey Atmos 65 or the Aether 70.
You go on long trips – For anything longer than a week or two, you'll most likely want something with more capacity than 46 litres. It just won't cut it for a year-long adventure unless you want to be washing clothes at every moment. Try the Tortuga Outbreaker instead.
You want something super simple – You may not need all the different pockets that the Porter 46 has. You might want something even more simple, a backpack you can just shove some stuff in and go. If that sounds like you then try the Osprey Farpoint 40. 
Different Osprey Backpacks
Osprey is basically the leader of the mainstream backpacking world. Whether you need a bag for trekking, a bag for backcountry adventures, something for city life, a weekend away in the countryside, or a daypack to compliment your suitcase, this mega brand have you covered.
So if the Porter 44 isn't doing anything for you, never fear. Osprey has a whole ton of backpacks on offer for virtually every kind of travel – and what's more, they're often (if not always) available in a male and female version, taking different body types into consideration.
Here are just some of Osprey's finest options for backpacks right now… 
The Atmos and Ariel are the go-to mainstream solutions of the backpacking world. This his and hers pairing boast an AntiGravity suspension system (hence the "AG"), meaning being able to carry a lot of stuff without skimping on comfort. A great option for a first-time backpacker.
Check Atmos AG Price Check Ariel AG Price
Another great backpacking option. The difference is that the male/female tag team of the Xenith and Xena is totally designed for those who carry a lot of stuff. Whilst the Xena boasts up to 85 litre capacity, the Xenith maxes out at a whopping 105 litres. And still, these bags are comfy!
Check Xenith Price Check Xena Price
When it comes to backpackers who are all about travelling with as little weight as possible, then the Levity and Lumina range is your jam. Available in either 60 or 45 litre versions, as well as different sizes for different body types, these packs are "superultralight", coming in at UNDER 2lbs in all sizes. Incredible.
Check Levity Price Check Lumina Price
Two new offerings from Osprey, the Rook and Renn are designed to be lightweight and with a super comfortable fit. They're great for overnight travel and hiking, complete with sleeping bag compartment, integrated rain cover, and a load of other features you'd expect of a technical pack.
Check Rook Price Check Renn Price
When it comes to a versatile range of backpacks, the Talon and Tempest do the job pretty well. Great all-rounders for a range of outdoorsy activities, these backpacks are available in 44, 33 and even 22 litre versions, making them a great idea if you need a daypack, too.
Check Talon Price Check Tempest Price
Another new addition to the Osprey family, the Kestrel (48 litres) and Kyte (46 litres) are modest capacity backpacking bags, perfect for a weekend of hiking or the long-term backpacker who's got their organisational skills and outfit changes down to a T. Functional and to the point.
Check Kestrel Price Check Kyte Price
A sleek-looking offering for a digital nomad is the Farpoint (and Fairview). The 40 litre version will solve your carry-on woes, whilst the 55 and 70 litre offerings make for decent trekking options with plenty of space and different pockets to stash your stuff.
Also if you dig this style of backpack, check out our Minaal 2.0 Review or our Tortuga Setout review!
Check Farpoint Price Check Fairview Price
Osprey Porter 46 Features
Osprey wouldn't be Osprey without their commitment to quality and comfort, and at sensible prices too. There are always a whole lot of different features going on behind the scenes, working in tandem to make these backpacks some of the best out there.
The Porter 46, of course, arrives to the party packing a whole lot of cool attributes that make it very good at what it does. Striking a balance between a duffel and a backpacking bag, here are the features that make the Osprey Porter 46 as awesome as it is…  
Suspension system
The suspension system of this backpack is specifically designed to make sure it's super comfy when you carry it. It's not exactly one thing that does it, but a combination of different things, from the waist belt to the harness, that helps to transfer weight from your shoulders and distribute it equally. It's not the most technical or advanced suspension system that Osprey have, but for a small pack like this, it's still very much appreciated.
Pro –

Anything that makes a backpack comfier is good

Con –

Not well developed and can still cause a bit of pain on the shoulders
Carry-on compatible
The size of the Osprey Porter 46 means that it will be accepted as carry-on for many airlines across the globe. Awesome. In case you were wondering, the dimensions for this backpack are 22 x 14 x 11 (inches), in case you need to check.
Pro –

Just saves on the price of having to check luggage in

Con –

Not accepted on ALL airlines; you

will

have to check
U-zip opening
Rather than being a top loading backpack, this model opens up with an almighty U-zip thing going on. Seriously, this means you can really get into packing the bag and keep pretty well organised. It also means that the bag can sort of work like a suitcase, making it even more perfect for weekend getaways. Just feels nicer to pack, you know?
Pro –

Good for keeping stuff well organised

Con –

You need to purchase packing cubes to make the most of the space
Padded shoulder straps
Part of what makes the harness more comfortable on the Osprey Porter 46 is the fact that the shoulder straps are padded. Carrying heavy loads with a skate rucksack style strap that doesn't have much (if any) padding wouldn't be cool at all, so Osprey have been good enough to put some padding in for you.
Pro –

More comfortable with padding than without

Con –

Not very well thought out and could be designed better
Hip belt
The hip belt on this backpack is part of the suspension system that makes it that bit more comfy to wear than a regular old rucksack. Basically, having the hip belt buckled up and adjusted to your size means that it takes the weight off your shoulders a little bit and eases up the tension.
Pro –

Means you can pack your bag a

little

heavier

Con –

Not that well padded and can feel uncomfortable
Stowaway harness and hip belt
An awesome feature of the Osprey Porter 46 is the fact that you can stow away the harness and hip belt for streamlined travel. When it comes to being a piece of carry-on baggage, it makes perfect sense to have all the dangly bits tucked away. Not only, but each aspect tucks away individually, meaning that if you want the harness without the hip belt, that can be done. Cool!
Pro –

Really adds to the bag's one bag travel credentials

Con –

Can be a BIT tricky to tuck away, especially if the bag is packed full
Padded top and side grab handles
A feature that works in tandem with the stowaway harness and hip belt are the grab handles. These are padded (for comfort, of course) and can be found on the top and side of the backpack itself. This means you'll be able to grab your bag from under a seat, or an overhead locker, without having to worry about straps hitting people in the face and getting caught on seat handles!
Pro –

Nice and convenient for quick and easy entrances and exits from transport

Con –

Carrying the bag by the top grab handle means the bag naturally leans into your legs as you walk, which is super annoying
Back panel
The back panel of the Osprey Porter 46 is mercifully padded, meaning that you won't feel all your stuff digging into your back as you wear it. All in all, this makes for a more comfortable carry, which is never a bad thing.
Pro –

Also helps to protect your laptop (located on the rear of the bag, as you'll see)

Con –

No mesh airflow system like in other packs
Zip protected laptop
or
tablet sleeve
Located against your back, there's a protected, padded sleeve (complete with zipper) where you can simply slip in your laptop. Simple. This is a fantastic feature of the bag and makes it easy to use since you can just take your laptop out, and put it in, without much effort involved. Digital nomads and laptop (or tablet) users will love this one, but you can also use it for important documents.
Pro –

Good to have a dedicated space for a laptop or your tablet

Con –

There still is a concern about damaging the laptop if you overpack the bag
Padded side panels
To help protect that laptop even more from the shocks of being thrown around whilst travelling (you know how it is), the side panels of the Porter 46 have been padded out. Not only is it good for protecting the laptop, but it means that the bag keeps its shape even if you don't fully pack it. If you're not a fan of flimsy, floppy rucksacks when not full to the brim, you'll love this.
Pro –

Puts your mind at ease about your stuff being well protected (these are shock-absorbing)

Con –

Quite rigid and adds extra weight to the bag
Top pocket organisation
There's a zippered pocket on the top of the bag that's very easy access. We'd say it's a good place to put all the toiletries you need to put in a plastic bag when you go through security. Also for things like a torch, if you need to find your way to the toilet at night, it's a good spot. 
Pro –

Always handy to have more places to put your things

Con –

Can be hard to access if the bag is very full of stuff already
Front panel vertical zipper pocket
For things like tickets, documents, or books, the front of the Porter 46 comes complete with an additional zipper pocket. We like it. It's a smart addition to this backpack that brims with storage solutions. It's not huge, but it does mean that you have the extra option of organising your stuff even further. 
Pro –

Yet more compartmentalisation opportunities for the money you're spending

Con –

You have to undo the buckles of the bag to reach it
Front panel organisational pocket
More pocket action now with another compartment on the front of the bag. This one is also zippered pocket, but rather than being a vertical slash opening, it opens up U-zip style to reveal a whole world of organisation.
There's a mesh pocket in here for whatever you feel like, pens or chargers, or whatever you feel like bringing along; you could even use it for make-up or cosmetics. There's also pen slots, places to put your cards, your keys, tickets, leaflets, or those all-important snacks.
Pro –

Being able to organise their stuff will be

all

some people think about

Con –

Could do with some more specialised pockets in there, to be honest
Dual internal zippered side pockets
Yet more compartments. The Osprey Porter 46 may not have a lot of internal storage solutions in the main pocket, but what it does have here is two zippered pockets that run the length of either side of the pack. This is a good idea for a pair of shoes (one on each side, we reckon), or dirty laundry, or even some electricals – remember, those sides are padded!
Pro –

Adds a little bit more organisation to the main compartment

Con –

Why are packing cubes sold separately? INCLUDE THEM!
Adjustable sternum strap and safety whistle
Adding to the fit of the bag, the straps across the sternum create a more snug, tighter fit. That means when you're walking through a city trying to find your hostel or a cafe to work in, or even if you're running to catch a bus or a train, it feels good. 
We also love the fact that Osprey have made one of the buckles into an emergency whistle as if you'd be going into the wilderness with this bag. Maybe if you get into trouble in the city you can blow it and see what happens.
Pro –

Makes for a more secure fit

Con –

If you've got a big chest, or you're tall, it can actually be pretty uncomfortable
Reinforced loops (to attach daypack)
If 46 litres just isn't enough for you, and you don't want to use the Porter as carry-on luggage, there's the option to attach a daypack to the front of the bag itself. That's a classic backpacking way of putting your carrying your stuff around.
It's nice because it's made to specifically fit the Osprey Daylite Backpack, making it very neat indeed. Plus it's reinforced, so it shouldn't do too much (if any) damage to your bag.
Pro –

Nice to have this extra functionality

Con –

Could make your bag look stupidly big if you're attaching the daypack
D-rings to attach a shoulder strap
Another set of loops to attach stuff to, the D-rings on the Osprey Porter 46 come into action when you've tucked away the harness and the hip belt and want to use the bag as more of a duffel than a backpack. If you like the breezy, easy feel of a duffel bag, this is the feature for you; the specific strap is well padded, adjustable and easy to attach.
Pro –

Means you can use this bag in TWO different ways

Con –

It really

does

feel like a con that this shoulder strap isn't included
Lockable zips
For security fiends, you'll be happy to know that the zippers on this backpack can be locked. More than that, they fit together and slot just perfectly to line up the hole where you can fit your very own padlock.
Pro –

A security detail that gives you peace of mind

Con –

You can sometimes catch the zips in the lining, which is annoying
StraightJacket compression system
The Osprey Porter 46 doesn't just come with any old compression straps. The weirdly named StraightJacket compression system (probably because it looks like a straightjacket, to be fair) ensures that your bag won't be bursting at the seams, and will get nicely streamlined – always good if you're on the road or trying to get it on a plane.
The StraightJacket system itself is really cool. It means that you don't end up with one tight bit around the middle, with bulges either side: the tightness is equally spread.
Pro –

Means you don't put too much pressure on the zips since you can compress it

Con –

The middle of the bag suffers from some bulge if overpacked
Comes in three sizes
So the unisex Osprey Porter is actually a series that starts at a very small 30 litres and ends up at 65 litres, with this offering of 46 in the middle. If you want something that's good for day travel or that can be used without worry as carry-on, the Porter 30 is a good option. For longer-term travel, hit up the 65L version. Simple.
Pro –

Nice to have options for this well-designed pack

Con –

Lacks small, medium and large sizes for each capacity and might not fit everybody
Unisex
Not all of the Osprey bags are unisex, in fact, loads of the backpacks have a his and hers version of stuff going on, but the Osprey Porter 46 is for female travellers as well as male ones, too. That means it's a good all-rounder of a pack – and possibly something that makes it a little more affordable, too, because it's not been over-designed.
Pro –

Makes it an easy to use pack for anyone

Con –

Might not fit your body type
Water resistant
Whilst not 100% waterproof, the water resistance on this backpack is actually pretty impressive. You won't have to worry TOO much if you get caught in the rain whilst heading to the train station or to catch your bus, as Osprey don't skimp on materials and will keep your stuff dry for a little bit of time in the rain.
Pro –

Your things won't be drenched in an instant

Con –

Maybe a rain cover should be included
Durable fabric
The Osprey Porter 46 has been made to last. Specifically, it's been designed to be tough and durable, so you shouldn't get too many scrapes or scratches on the bag either – even after long term use. It's made of 420 high denier Nylon Packcloth and 420 high denier Nylon Wave Ripstop; that's technical speak for it's a rugged pack (even if it doesn't look it).
Pro –

You won't have to worry too much about this bag breaking on you

Con –

Not very breathable
Comes in different colours
We're always into the option of different colours, and this one comes in FOUR colours. Not only does this mean that you don't have to look like everyone else wearing this bag, but it's also good to get a colour that suits your taste. And that you like. It comes in the amazingly named selection of Black, Castle Grey, Diablo Red, and Mineral Teal. 
Pro –

Good to spot your bag if you

have

checked it at the airport

Con –

It seems like all Osprey backpacks have the same colours to choose from
All Mighty Guarantee
Being the quality company they are, Osprey have a quality guarantee to match. They've called it the "All Mighty Guarantee" because, well, it is. If the Porter 46 has any damage or defect, Osprey will replace it free of charge. Isn't that awesome? Yeah, we think so too.
Pro –

Saves on having to replace or repair the bag yourself or with your own money

Con –

We're not 100% sure what counts as a defect
Final Thoughts on the Osprey Porter 46
For the price alone, the Osprey Porter 46 is totally worth it. It's a unisex bag with no specialisation one way or the other – except for being made in the form of an old-school rucksack. Osprey-style, of course.
And Osprey quality as well. The durable fabric, the water resistance, the very comprehensive compression strap situation going on here… All of it makes for a pack that's totally worth it. Then you see that it's a budget-friendly option and boom: you've found a winner.
Being more of a rucksack than a longterm "backpack" for travelling the world, the Porter 46 naturally is going to catch the attention of people who love urban landscapes. People who love weekend breaks, and digital nomads who have their organisation down to a T, will be fans of this bag.
That's not to mention the carry-on credentials. It may not be accepted by ALL airlines, but it's not just the size: it's the stowaway capabilities of the harness and hip belt, it's the compression system, it's the grab handles – all the features that make it ideal for one bag, streamlined travel. 
Neat, tidy, easy on the wallet, and with a clear hankering for cityscapes and simple countryside breaks, this is one of the best all-rounders out there for short trips – with your laptop safely in tow.
***Disclaimer*** Some of the links in this post are affiliate links. This means that if you book your accommodation through the site, One Weird Globe will earn a small commission at no extra cost to you. Your support helps me keep the site going :)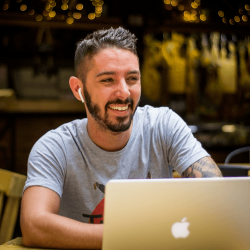 Latest posts by Aaron Radcliffe
(see all)