Frankfurt is a metropolis in Germany that is known to be filled with glinting skyscrapers and a bustling business district. However, Frankfurt not only attracts thousands of business travelers but all sorts of other types of travelers, including history-lovers, architecture-fans, and culture-fanatics!
From the Old Town, filled with beautiful and quaint buildings, to the sweeping countryside that surrounds the financial hub! With so much to do in the vibrant city, it's always smart to begin your trip with a basic idea of what to do in Frankfurt.
Our Favorite Places to Stay in Frankfurt!
If you choose to visit Frankfurt, you want to make sure that you stay in a central and convenient location.
The Coolest Hostel in Frankfurt
Free pasta party every night!
Super centrally located
Frankfurt Hostel is a short minute walk from Frankfurt Main Central Train Station and a 10-minute walk from the Old Town and various Frankfurt tourist attractions. The hostel boasts a cozy mood and friendly staff!
A Great Budget Hotel in Frankfurt
Incredibly stylish and trendy
Nearby plenty of restaurants and shops
Moxy Frankfurt City Center is a new hotel located in the bustling financial district of Frankfurt. The vibe at the hotel is amazing, matching the trendy and stylish furniture!
The Best Luxury Hotel in Frankfurt
Located in the heart of Frankfurt
Bright and spacious rooms
In addition to being primely located in the center of Frankfurt, NH Collection Frankfurt City serves the most incredible breakfast! If not relaxing in your spacious room, you can also enjoy the hotel's sauna, hammam, and gym!
The Best Travel Backpack EVER MADE!?!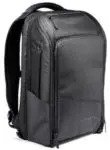 We are obsessed with backpacks – we've tried them all! And our favourite carry on backpack in the WORLD is the Nomatic Travel Backpack. This backpack has revolutionized the backpack industry and will change the way you travel forever :) Check it out here!
• The 31 Best Things to Do in Frankfurt •
Cruise along the River Main
Marvel at Frankfurt's towering skyline
Enjoy panoramic views of Frankfurt's Financial Center
Jump onboard a boat and cruise along the River Main for an unforgettable, relaxing experience in Frankfurt. Enjoy spectacular views of the financial center as you glide past the area!
As you sail along the river, look out for the iconic sights in the historic Sachsenhausen district!
Discover Frankfurt on a double-decker bus!
Choose the Skyline or Express tour
Drive-by key Frankfurt attractions
The comfortable double-decker bus is a great way to discover Frankfurt through a fun sightseeing tour that promises a great day out for the whole family!
Look out for key attractions such as St. Paul's Church, Goethe House, and the Römer building! Hop on and off the bus as many times as you want as you discover the city's sights.
Heading to Berlin? Save some money with our guide to the coolest hostels in Berlin!
An unforgettable night out!
Taste local German drinks
Make new friends!
A pub crawl is one of the best things to do in Frankfurt at night. Not only do you get to discover some of the city's hottest bars and restaurants, but you also get to taste some typical German drinks.
A pub crawl through the vibrant area of Alt-Sachsenhausen is also a great way to make new friends in a fun and relaxing environment!
#4 – German Film Museum
An awesome experience for film-lovers!
Experience the world of German film!
Leading international film heritage institution!
Explore exhibitions and festivals
The German Film Museum is at the forefront of preserving film heritage. A visit to the museum promises an immersive and enriching experience that delves deep into the global film culture.
Stroll through exhibitions, cinemas, archives, collections and various digital platforms that are presented in a diverse and dynamic way!
See the main historical attractions
Marvel at the intricate architecture
Learn about Frankfurt's urban history
A trip to Frankfurt would be incomplete without exploring the beauty and charm of the Old Town. The streets have been reconstructed, but still hold a wealth of culture and history.
Stand in awe in front of St. Paul's Church, the Cathedral and admire the fascinating architecture around the Römerberg!
Germany is amazing! And the best hostels in Hamburg will blow you away!
A unique e-bike experience!
Cycle along the Green Belt
Discover the Frankfurt city center
Jump on board an e-bike for a unique experience of discovering Frankfurt. From the Green Belt Cycling Road which goes through the Rhein-Main regional park and the beautiful city center – you're in for a treat regardless of the route you choose!
The e-bike offers a great way to explore Frankfurt with the wind in your hair, minus the effort of having to pedal too hard!
Explore Frankfurt as a local
Discover local secrets
Learn city tips and tricks
Traveling with a local guide will share secret glimpses into the wonders of the city of Frankfurt!
This is also a great way to make friends in the city while discovering some of Frankfurt's hidden gems and secret spots!
Have your dates picked? Read up on hostels in Munich before you book!
#8 – Frankfurt Botanical Garden
A top Frankfurt attraction
Open daily in warmer weather
Explore 8-hectares of greenery
Free between March to October
The Frankfurt Botanical Garden is a great place to go to relax and unwind in beautiful nature. The large garden boasts over 5,000 types of outdoor plants to marvel at!
If you are looking for a tranquil and fun experience for the whole family, then a visit to the gardens is a must!
Visit Frankfurt's largest green area
Experience the haunting history of crime
Indulge in theatrical entertainment
Niddapark in Frankfurt is haunted by stories of past crimes. One of the best ways to experience the large, green area is to go on a walking and theatrical entertainment tour that is filled with scary moments performed by professional actors.
This is a great way to be entertained while learning a little bit more about Frankfurt's history.
Private plane ride above Frankfurt city
Ultimate luxurious experience
Enjoy views of skyscrapers and skylines
Enjoy the beauty and bustle of Frankfurt in an entirely unique way – from up in the sky! This luxurious experience is one of a kind as you fly over the city, taking in views of skyscrapers and busy streets.
The completely personalized experience means that you get the full attention of the pilot and views of the city to yourself!
Marvel at Frankfurt's countryside from the air!
Discover southern Hessen
See the Rhein-Main area
There's nothing quite like swooping over the beautiful countryside from the whirring seat of a helicopter! This promises a truly romantic experience in Frankfurt!
There's no better way to experience southern Hessen or see the Rhein-Main area and Darmstadt than from the bird's eye view of a private helicopter!
No plans tonight? Check into one of Berlin's party hostels for more than just a place to sleep!
#12 – Frankfurt Zoo
All ages will love this site!
Home to 500 species
Open 356 days a year!
Prioritizes nature conservation!
The Frankfurt Zoo is open every day of the week from 9 am to 5 pm and is the perfect activity to do with kids. Located in the heart of the city, the scenic environment is home to 500 different animal species from around the world!
The zoo was first established in 1858 and features two fascinating exotic and nocturnal animal houses.
Visit famous Frankfurt attractions
An active and fun experience!
Explore the district of Sachsenhausen
One of the most fun ways to explore Frankfurt is on the back of a bicycle. If you are an active traveler, then this is the perfect activity for you as your bike ride takes you past famous sights in the city and showcases the best of Sachsenhausen!
Prepare to discover traditional restaurants, cafes and bars as you cycle on traffic-free roads!
Solve riddles in a team
Get familiar with the city
Exercise your creative brain
Enjoy a fun and intriguing scavenger hunt through the Sachsenhausen district of Frankfurt with a smartphone challenge. Together with your team, you can find creative solutions to challenges.
This is a great activity to get to know both your traveling group as well as the city a little bit better!
Need specifics? We also have our favorite hostels near Frankfurt!
Shop luxury brands
Enjoy chic outlet shopping village
Dine and drink at La Piazza
Does the word 'shopping' set your heart beating in a frenzy? Then the Wertheim shopping village is the perfect thing for you! Spend the day hunting for bargains before enjoying a tasty lunch and drink at nearby restaurants.
The village promises an exclusive and unforgettable shopping experience!
#16 – Eco Kart Circuit
Great thing in Frankfurt to do with kids
A thrilling family adventure
No emissions!
Guaranteed fun!
The Eco Kart circuit in Frankfurt is an unforgettable experience for the whole family! You can be sure that your kids will want to go back again – and again.
The best part is that this exciting adventure is eco-friendly, with the E-karts driving without releasing harmful emissions!
Discover hidden foodie gems
Chat to local food and wine experts
Enjoy great food!
Tasting the local cuisine of a city is something truly special and extraordinary. Even better is when you are offered the opportunity for a fun and alternative foodie experience.
Explore the culinary side of Frankfurt in a unique and special way through a multi-course meal, with each meal being served at a different location.
Don't stay in the city too long! Take one of these great day trips from Berlin to see more of the area!
Learn Frankfurt's medieval history
Discover Frankfurt's Old Town
Experience a cheerful theatre piece
Enjoy a guided tour through the city that is presented with a cheerful theater piece. Learn all about Frankfurt's fascinating medieval history as you stroll through the Old Town, being informed about medieval jobs such as the bath master and executioner.
The seriousness of this landmark's history is communicated in a light-hearted fashion by amusing actors, adding a cheerful and hilarious tone to the day.
Traverse Frankfurt's green landscapes
Enjoy a thrilling segway ride
Travel along the Nida River
Explore the surrounding area of Frankfurt from an entirely unique perspective on the back of a Segway. Hop onboard your ride and experience the city and green landscapes as you glide through the city.
Be prepared for the perfect blend of natural wonder with impressive city scenery that makes up an unforgettable experience!
Will you be in Munich a while? Here's your guide to the top day trips from Munich for exploring the area!
#20 – Goethe House and Museum
One of the best things to do in downtown Frankfurt
Birthplace of famous German author
18th-century bourgeois style home
A writer's dream attraction
Open from 10 am to 6 pm from Monday to Saturday, and 5:30 pm on Sundays, Goethe House and Museum are open to the public to explore the fascinating environment where Goethe spent his youth.
The famous home of the famous German poet and author, Johann Wolfgang von Goethe, is decorated with amazing period furniture and paintings, leaving you with a striking impression!
Drive a hotrod
Take a photo at the Römer
Next level of sightseeing
Jumping into the vehicle will give you a completely different sightseeing experience in Frankfurt! A hot rod ride is a great way to explore the industrial part of Frankfurt.
Drive along the Mainufer River and pass several popular museums in the comfort and pizzaz of a hot rod vehicle! This is a Frankfurt experience that you won't forget!
Enjoy a premium lifestyle ride
Explore Heidelberg, Mannheim, and Frankfurt
An environmentally-friendly experience
Enjoy a unique driving experience while riding on the width of the Scrooser tires. Allow the eco-friendly vehicle to escort you through Heidelberg, Mannheim, and Frankfurt.
Take a moment to absorb the iconic sights as you cruise along Neckar River and the fields to Ladenburg.
Hamburg has tons to do! But don't forget you can take day trips around Hamburg too!
Perfect comedic release
Epic sightseeing tour
Visit top Frankfurt attractions
There's no better way to visit Frankfurt's top attractions than with a belly full of laughs. That's exactly what the sightseeing stand-up comedy tour provides!
The unique tour takes you past the key sights in the city, such as the Römer and Main Tower, while laughing along to a stand-up comedy show!
#24 – Römer
One of the most important sites in Frankfurt
Explore the famous medieval building
Iconic German architecture
A must-see sight in Frankfurt
You can't leave Frankfurt without visiting the Römer, it is the most iconic sight in the city! From the fascinating architecture on the outside to the rich history on the inside – the Römer is the epitome of Frankfurt culture.
If you love history and architecture, then the Römer needs to be added to your list of Frankfurt things to do!

If you are traveling you should ALWAYS have emergency cash hidden on you! Security belts are great because they are affordable and can fit a ton of stuff in them (great for peace of mind!). Check out our favorite travel belt!
Be hosted by professional, masked actors
Journey through Frankfurt Old Town
Experience satirical theater
Frankfurt is full of theatre, and there is no better way to experience this strong cultural element than through the combination of an excursion, theater, and satire.
Learn about the history of the city while listening to a self-written play presented by professional actors!
Combine food and storytelling
Savor six tastings
Hear amusing anecdotes of the city
Discover the tasty and unforgettable traditional dishes in Frankfurt as you sample local snacks at six different locations.
With storytelling playing such a big role in German culture, it's no wonder that the ultimate food tour will include amusing stories from the local food guides!
Editor's note: Save a bit of cash in Berlin with our guide to budget hostels in Berlin!
A highly realistic experience
"Fly" a variety of aircraft
Enjoy the ultimate simulation
Become a commander of the sky by flying a classic B737, steering a digital A320, taking flight in an F-16 Fighter, discovering the Cessna C172 and take off in a UH-1 helicopter!
These fully-equipped flight simulators promise a highly realistic experience for an unparalleled flight experience!
#28 – St Bartholomew's Cathedral
One of the best free things to do in Frankfurt
Largest religious building in Frankfurt
A symbol of national unity
A free activity!
Strictly speaking, the church was never a cathedral at all, but is revered as such and is the largest religious building in Frankfurt!
The beautiful architecture is a profound sight commemorating German history and is a must-visit in Frankfurt!
Discover Bad Homburg's history
Professional acting entertainment
Explore the historic train station!
Experience Bad Homburg with a twist as you are guided through the area in the heart of Frankfurt by professional actors!
The entertaining experience teaches all about the history and famous locals of Bad Homburg in an unforgettable manner!
Traveling on a budget? Have you seen our cheap hostel recommendations for Munich?
#30 – Archeological Museum
A must-do for history buffs!
A museum dedicated solely to Archeology
Perfect of history-lovers!
Housed in the Carmelite Church
Open from 10 am to 6 pm every Tuesday through Sunday, the Archeological Museum in Frankfurt is every history-lover's dream!
The museum boasts a wide range of historical artifacts and is dedicated to investigating, documenting and presenting fascinating archeological findings!
Want to level up your German Archeology Exploration? Check out this Epic Guide to Messel Pit Fossil Site!
#31 – Main Tower
One of the top places to visit in Frankfurt
A great Instagram location
Impressive view of Frankfurt's skyline
Perfect sunset spot
The Main Tower is one of Frankfurt's top attractions. The observation deck attracts countless travelers seeking the perfect sunset spot, and the restaurant and lounge offer the ultimate fine dining experience with a view.
It's no wonder that the Main Tower is one of Frankfurt's must-see attractions!
Final Thoughts
Whether you are traveling for business, as a family, with your loved one or alone, Frankfurt is sure to have a treat for you to enjoy!
Take the time to marvel at the incredible architecture and learn about the fascinating medieval history that is still celebrated in the city today. Pack your comfortable walking shoes because there are lots to explore!
Hopefully this list of things to do will whet your appetite and encourage you to dig deeper and discover the wonders of Frankfurt!
***Disclaimer*** Some of the links in this post are affiliate links. This means that if you book your accommodation through the site, One Weird Globe will earn a small commission at no extra cost to you. Your support helps me keep the site going :)
Latest posts by Clair Ricketts
(see all)