Barcelona is an amazing place to explore. Full of vibrant life, culture and history, the city is home to the amazing Sagrada Familia, the famous streets of Las Ramblas and, of course, Barcelona FC!
But the Catalonian capital is just the starting point for amazing adventures in this fun and fascinating region of Spain, where medieval history meets astounding landscapes.
So we've created a guide to the best day trips from Barcelona to make life easy for you if you're thinking about a trip to the city. From romantic couples' day trips to family-friendly outings, there's something for everyone.
With fantastic trips ranging from wine tasting to amusement parks, we hope you'll find something for you in our guide below.
Editor's note – need a place to crash in Spain's capital? Check out our 20 best hostels in Barcelona!
Quick Answer: Best Day Trips from Barcelona
Best Places to Stay in Barcelona
With all of the amazing coastline to explore around Barcelona, you're going to want to make a few day trips. Book yourself a bed in a hotel or hostel that has easy access to public transport so that you can get out of the busy city without getting stuck in crazy traffic.
• Best Hostel in Barcelona •
Great to meet other travelers
If you're looking to stay somewhere in Barcelona that's got a vibrant atmosphere, then look no further. The funky hostel bar is the place to get chatting to other travellers, whilst the 7th floor has stunning views of the Sagrada Familia itself. The whole hostel is kept squeaky clean and you can even choose from safe dorm rooms or privates.
• Best Budget Hotel in Barcelona •
Close to public transport
Budget doesn't necessarily have to mean you have to cut on quality, and this top budget hotel in Barcelona knows that. Save a few dollars, but still enjoy sleeping on crisp white sheets among stylish interiors. There's even a sunny outdoor terrace and a shared living areas – and all conveniently located a 2 minute walk from a big central metro station.
• Best Luxury Hotel in Barcelona •
This luxury hotel in Barcelona is a towering sail-like building that sits right on the Barcelona beach. The high-end rooms here have views out across the sea and are as steely and stylish as the building itself. If you stay here, you'll find it hard to tear yourself away from the infinity pool and bar!
Looking for a villa? Check out these AMAZING Villas in Barcelona!
#1 Best Day Trip from Barcelona –Sitges
Day Trips from Barcelona by Train
Beach fun

Gay-friendly

Charming old town
Just 35 kilometres southwest of Barcelona is the fun packed holiday destination of Sitges. Famous the world over for being a liberal, gay-friendly capital, spending the day here is an easy day trip from Barcelona by train.
The most obvious thing to do in this coastal town is spend some time kicking back on one of its sandy beaches, soaking up the sun and splashing around in the cool sea.
There are plenty of spaces in Sitges to get yourself some tasty food for lunch thanks to the many restaurants on offer. And once your full, take yourself to the town's seafront promenade and walk it off whilst admiring the grand buildings and watching the beachside life of the place unfold.
Sitges is also known for its old town, which is easy to walk around and explore owing to its compact size, and you can soak up the town's history here – or in one of its museums, such as the Cau Ferrat Museum.
The town is set on the backdrop of the mountainous Parc Natural Del Garraf, which means there are also some hiking options nearby if you've got the time – and the inclination to get off the beautiful beaches!
The Best Travel Backpack EVER MADE!?!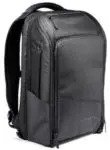 We are obsessed with backpacks – we've tried them all! And our favourite carry on backpack in the WORLD is the Nomatic Travel Backpack. This backpack has revolutionized the backpack industry and will change the way you travel forever :) Check it out here!
Amazing scenery

Religious history

Local food and drink
When it comes to great day trips from Barcelona by train, not much could top going to see the amazing Montserrat. The scenery is nothing short of stunning.
The train ride here has views across tree coated valleys and across the mountains, an area of breathtaking natural beauty that's a joy to travel through.
Inside the national park itself is a holy shrine that's dedicated to the Virgin of Montserrat (one of the world's famous 'Black Madonnas') and makes for an interesting stop-off to learn more about the history and culture of this region.
Make sure you get yourself the Trans Montserrat rail ticket so you can also take the cable car up to Montserrat. And at Santa Cava, you can take the funicular to the place where the Virgin of Montserrat is said to have appeared.
Spend some time in Montserrat itself, strolling around and admiring the mountain views. You can also buy some cheese at the local market and try out a bit of the local wine.
It's a perfect way to spend a day on your own time schedule. And with the rail ticket, you also get free access to an audiovisual gallery – and you'll be able to tour the Benedictine monastery here, too. An interesting Barcelona day trip.
Spain has some COOL hostels! These are our favorite hostels in Valencia
Absolutely perfect for Ferrari fans

Learn about racing car history

Thrill rides
Do you have an affinity with beautiful cars? If so, then you should pay a visit to Ferrari Land – and yes, it is exactly what it sounds like: a theme-parked based around Ferraris.
Here you can learn all about the history of this iconic brand, thanks to an interactive museum. Plus there's even a simulator here so you can try your hand at what it feels like to be an F1 driver. You can even compete against your friends at Maranello Grand Race, a 570-metre track where you get to drive around mini cars!
But it isn't all about Ferraris. With rides from vertical drops to super speedy roller coasters, this is one to suit all the adrenaline junkies – and the Red Force ride, in particular, is great for big thrills.
And when it's all done you can return back to the Catalonian capital with bags full of Ferrari merchandise. The perfect half-day trip from Barcelona for anybody who has even a little bit of love for these famous cars.
Solo Travllers will love these hostels in Barcelona.
#4 – Figueres
Interesting town to explore

The crazy Dali Museum is here

Great for fans of art
Just a charming hour and a half train ride (and a bus) from Barcelona is the famous hometown of renowned surrealist Salvador Dali.
Spend your time in this town exploring the areas and establishments that Dali himself used to go to. You can even visit the hotel where he used to stay and sit and eat with his friends, plus the cafe where he would hang out and talk with his artist buddies.
And then you can visit the crazy Dali Museum itself. Designed completely by the man himself, Salvador Dali designed this place as one huge piece of artwork – he's even buried here.
There's the courtyard with the famous black Cadillac which bizarrely features rain inside the car, early paintings from the artist adorning the walls, and a general sense of the absurd and the surreal – just like a peek into Dali's mind itself.
Although the star of the show here is all things Dali, the town of Figueres itself is interesting. After all the crowds of the museum, escape into the quiet of the town for a cup of coffee and a bite to eat.
Especially if you are interested in art this is a day trip from Barcelona by train that you won't want to miss.
#5 – Sant Sadurni D'Anoia
Trying out local cava
Learning how cava is made
Pretty town
A mere 50 kilometres west of Barcelona is this town. Otherwise unassuming, the town of Sant Sadurni D'Anoia is famous for being the centre of Spain's cava industry. In fact, the town itself is home to about 60 different companies all producing and distributing the sparkling Catalonian fizzy wine across the world.
Naturally, the main thing you can get up to in Sant Sadurni D'Anoia is trying out a few different cavas produced in the region – best done via a cava tasting tour. These tours feature the opportunity to ride on underground trains that take you through the caves where the wine matures. And at the end, of course, you get to sip on some of the cava, too.
The town itself – an easy day trip from Barcelona by train – is picturesque and a nice place to wander around. There are a few cafes and restaurants dotted about so it will be easy to find yourself some lunch, complete with a glass or two of cava of course (and unlike champagne, it's very affordable).
Staying Safe in Barcelona
While Barcelona is super safe, no matter where you are traveling, you NEED to have great travel insurance. We have personally tested TONS of travel insurance companies, and World Nomads is our favorite (and most affordable!).
Fill out the form below to get a quote so you can have a stress-free time traveling around Spain!
Romantic Day Trips from Barcelona for Couples
Incredible views

Historic sights to explore

Romantic atmosphere
Recently refurbished, the Montjuic Cable Car is a fantastic way to get some amazing views of Barcelona and its coastline. The historic hill sits just outside of the city, and so this makes for an easy day trip from Barcelona.
The views from the top of Montjuic itself, part of the Serra de Collserola, and look out across the glittering Mediterranean Sea.
There are three stations to stop at along the way: the Parc de Montjuic, Miramar and Castel de Montjuic. At the last of these, there are the remains of the castle to explore, which dates back to 1640.
The park has a great atmosphere and is a great spot for friends and couples from Barcelona itself to enjoy the dramatic views, so it makes sense that you should join them on this romantic day trip from Barcelona for couples. Plus they don't get much simpler than this, with Montjuic itself being so close to the city.
Soak up the panoramic views of the port with your partner as the sun sets and think about where you might go for dinner together in one of Barcelona's many delicious eateries.
We've got your back! Here are the cheapest hostel options in Barcelona if you're traveling on a shoestring!
Great for Game of Thrones fans

Packed full of history

Delicious food to be tried
From Barcelona you can explore the fascinating history of Girona; this famous Catalonian city is just a short drive away and is packed full of cultural heritage along its medieval streets.
Boasting a number of famous landmarks – especially since Game of Thrones used some parts of the city as sets – make sure you take a guided tour in order to learn more about the layers of history hidden in Girona.
There are amazing monuments to discover here, such as the old cathedral and the picturesque pastel-painted houses situated along the river's edge. There are also the ancient Roman remains of the Forca Vella fortress.
Girona is also the site of one of the world's best preserved Jewish Quarters and is important in terms of artistic, architectural as well as cultural heritage.
Allow some time for lunch on this romantic day trip from Barcelona and get to know the wealth of delicious cuisine on offer in Girona's old town, complete with medieval walls and watchtowers and dramatic vistas.
Charming villages to discover

Picturesque countryside

Tasty local food to try
In the surrounding area of Barcelona there are an amazing array of historic villages just waiting to be explored, so why not drive through the heart of the Catalan countryside and discover them for yourself?
On this romantic day trip from Barcelona, you'll arrive at Besalu, a beautiful and ancient town with an incredibly well-preserved village area that dates back to the middle ages. Take a guided walk around the town arcaded streets and stop off to visit the meticulously restored Mikveh – an old Jewish bath dating back to the 12th century, which sits along the remains of a medieval synagogue.
Journey to Rupit but before you get there, make sure to take a break at Castellfollit de la Roca, which is one of the smallest towns in Catalonia, covering only 3,280 square feet – and which sits precariously on the edge of a precipice.
At Rupit you'll get to explore charming cobbled streets and rows of 16th-century cottages, a preserved wooden bridge. Lunch with your partner at one of Rupit's amazing local restaurants in a scenic setting close to the Baroque church of San Miquel.

If you are traveling you should ALWAYS have emergency cash hidden on you! Security belts are great because they are affordable and can fit a ton of stuff in them (great for peace of mind!). Check out our favorite travel belt!
Day Trips from Barcelona with Kids
Hit the high seas

See the beautiful coastline

Chill out on the deck
Spend a fun day with your family aboard a catamaran as you cruise along from the city's ancient harbour out across the Mediterranean sea.
This is a great day trip from Barcelona with kids as you'll hit the high seas and have a fun lounging around on catamaran. They'll love watching the sea go by and spotting marine life and nearby islands as you sit back and relax.
On this Barcelona day trip, you depart from Port Vell, which is right next to the monument dedicated to Christopher Columbus at the south end of Las Ramblas.
Then begins your cruise along the coast. You'll get to see Barcelona from the sea for some pretty amazing views.
There's a snack bar (as well as the all-important bathroom) so you can be safe in the knowledge that you and your children won't get too hungry – and you'll be able to chill out with a drink or two, as well.
The catamaran comes with one addition that your kids will love: submarine vision. Consisting of glass windows in each of the catamaran's two hulls, they'll be able to watch the underwater world go by and get up close and personal with the marine life of the Mediterranean Sea.
So much to do

Great thrill rides for older children

No shortage of food options
Set in Salou just southwest of the Catalonian capital, this day trip from Barcelona takes around an hour and 15 minutes and there's no getting the train – it's an arranged bus for you and your family.
After that, you'll be catapulted into a world of fun at Spain's largest theme park.
There are five themed areas dotted around the park for you and your kids to explore, all filled with adrenaline pumping rides that are just perfect for all your thrill-seeking travellers out there. There's the amazing Dragon Khan rollercoaster and the freefall Hurakan Condor, but the star attraction here is the Shambahala: the tallest rollercoaster in Europe, complete with a 78-metre drop!
But there are also magical shows (over 100 of them) and gentler rides that are much more suited to smaller children, so this is a great day trip from Barcelona with kids as everyone will be happy. There's even things like a skydiving simulator, which might be more fun for adults.
You can also take a virtual journey across the world, from Aztec Mexico to Imperial China, as well as the Mediterranean.
Being a theme park, there are plenty of options for food here, so no one will go hungry on this trip. And after lunch? More fun!
Rides for all the family

Historic importance

Incredible city views
Set on an icon of Barcelona, the mountain of Tibidabo (the highest point of the Serra de Collserola), and surrounded by natural greenery, Tibidabo Amusement Park is a bastion of Barcelona's history: it's been there for 100 years!
Since it's so close to the city, it makes for an easy day trip from Barcelona with kids – there are plenty of rides and things to do at this must-see attraction.
Tibidabo Amusement Park is actually one of the oldest of its kind still in operation. In fact, most of its original rides are still functioning after all this time! One of the most iconic is the 1928 Avio airplane ride, which makes it feel as though you're flying over the city.
There's also the Automaton Museum, dedicated to Europe's early 'robots' and featuring many mechanical figures from the late 19th and early 20th centuries.
And don't miss the 500 meters high Tibidabo Sky Walk, complete with panoramic views.
With attractions for all the family, Tibidabo Amusement Park is definitely one of the best day trips from Barcelona with kids that you could go on.
Exciting coastal adventure

Explore caves

See underwater scenery
Away from the heat of the busy Barcelona streets, take your family on an action-packed kayak and snorkel trip along the Costa Brava.
On this day trip from Barcelona with kids you drive from the city to the perfect place to begin your adventure. At the beach, you'll be given all of the necessary equipment – plus a guide, of course, who'll instruct you and give you interesting information along the way.
So you can paddle along the shore with your family, discover deserted beaches (great for a picnic stop), as well as intriguing caves in your kayak. And then hop off the side with your snorkel… Below the waves, you can see fish, sea urchins and coral that's just overflowing with sea life. Your children will love discovering this colourful underwater world.
At lunchtime, you'll find a secluded spot and kick back on a white sandy beach with that picnic. And then you've got plenty of time to play around on the beach before exploring further along the coast.
Conclusion to the Best Day Trips from Barcelona
All of the best day trips from Barcelona so that you can get the most out of your break to the Catalonia capital. There is a whole host of amazing trips and so many different types of experiences that are in easy reach of the city.
If you need accommodation and like to party, why not check out our epic guide to the best party hostels in Barcelona so you can find the best party spots in town! If you're looking for somewhere easy for traveling, this list of the 11 best hostels near Barcelona Airport will show you the BEST hostels so you can travel like a boss :).
We found tours that take you on the train all the way to the incredible scenery of Monsarrat, crazy fun theme parks for all of the family and romantic trips to old towns such as Girona for couples who want a special day out.
Barcelona and the surrounding area has a huge amount to see and do, you'll be able to pack so much into your trip and get to see some of the most incredible scenery on top of that!
There's nothing else to wait for – get planning your Barcelona trip now!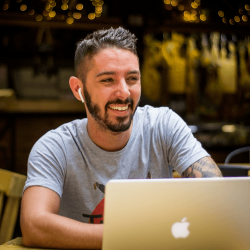 Latest posts by Aaron Radcliffe
(see all)