Located on Lake Okanagan, Kelowna is a popular destination right in the heart of British Columbia's Wine Country! During the summer it is a popular getaway destination for those looking to enjoy the boating and watersports facilities. It is also close to a popular ski resort during the winter season.
As a relatively small destination, figuring out where to stay can be trickier than it seems at first. The town stretches along the waterfront, and for certain travellers it might be better to consider elsewhere on the lake.
That's why we created this guide! We've figured out the five best neighborhoods in and around Kelowna and categorised them based on who they are best for.
So let's just get started!
Quick Tips – Where to Stay in Kelowna
Where to Stay in Kelowna
Looking for a specific place to stay? These are our highest recommendations for places to stay in Kelowna.
Best Budget Hotel in Kelowna
While the rooms may be simple at this cozy hotel, the shared facilities truly enhance your experience, ensuring your money goes a long way. You can enjoy the indoor pool and unwind in the hot tub facilities, which is perfect for rejuvenating after a day of exploration.
Best Mid-range Hotel in Kelowna
Featuring a sleek fitness center and sauna, a complimentary continental breakfast, and an on-site Irish Pub, The Royal Anne Hotel, is a great place to stay in Kelowna. It also has a fantastic location in the heart of the city with plenty of things to do and see nearby the hotel.
Best Luxury Hotel in Kelowna
This four-star hotel is part of the BW Premier Collection – a true testament to the above and beyond levels of service exhibited by staff! Rooms come well equipped with modern technology and designer furnishings. There is also a balcony in every room, giving you great views across the city and the lake.
Not sure what to do in Kelowna? We break it down in this guide to Kelowna!
Kelowna 5 Best Neighborhoods to Stay in
Let's take a look, in more detail, at the five best neighbourhoods in Kelowna. Each caters to different interests, so be sure to pick the neighbourhood that's right for you.
Neighborhood #1 – Cultural District
Best neighborhood in Kelowna for your first time!
COOLEST thing to do in Cultural District – try your luck at Playtime Casino Kelowna, the most popular in the city
BEST place to visit in Cultural District – Okanagan Wine and Orchard Museum has a great rundown of the history of the industry in the region
Kelowna's Cultural District is where you will find most of the tourist attractions in the city! This area is packed with museums, beautiful green spaces and breathtaking views across the lake. As the main cultural hub, it also comes with plenty of fantastic art galleries and theatres just waiting to be discovered.
The Cultural District is located just above Downtown, so you are well connected with the city centre. Whilst the city is notoriously expensive, restaurants and bars in this area tend to be cheaper than other parts of Kelowna! There are also some fantastic, well-priced, distilleries where you can discover local wine, cider and beer culture without breaking the bank.
More Awesome Things to do and see in Cultural District
Waterfront Park is a popular public space with great views across the lake as well as well-equipped recreational facilities and walkways
Kelowna Art Gallery has an ever-changing series of exhibits dedicated mostly to contemporary art – it is quite small, but well worth a visit
The Rotary Centre for the Arts is another popular cultural site – with regular live performances happening within the theatre as well as throughout the grounds
Tree Brewing Company is a small craft beer brewery where you can take a tour of their facilities, as well as sample their product in the neighboring bar
Urban Distilleries and Winery, on the other hand, focusses on wines and spirits and is great for those on a strict budget that want to discover local viticulture
For fantastic cuisine, you can't miss out on OAK + CRU – a local social project that houses upscale menus, cooking classes and a great wine selection
Best Budget Hotel in Cultural District
Whilst there aren't really any budget friendly hotels in the area, those looking to stay in the Cultural District whilst still saving some cash can opt for an apartment instead! This two bedroom apartment is perfect for groups of up to six people – and comes with unbeatable views across the lake.
Best Mid-range Hotel in Cultural District
Though more of a mid-range hotel, the Royal Anne is a great option for backpackers that simply want to kick back and relax in the heart of wine country! This makes it a great choice if you are including Kelowna as part of a larger itinerary. There are two saunas on-site, and a continental breakfast is included in the price.
Canada is amazing! And the best hostels in Toronto will blow you away!
Best Luxury Hotel in Cultural District
This magnificent five star resort is truly the pinnacle of luxury in the Lake Okanagan region! Located right on the waterfront, it comes with mesmerising views of the lake and easy access to both the Cultural District and Downtown. There is an outdoor pool on-site, as well as a highly rated restaurant and wine bar.
Recommended Article: Looking for the best hostels in Banff? Check out our EPIC Guide!
Neighborhood #2 – South Central
Where to stay in Kelowna close to everything!
COOLEST thing to do in South Central – discover local cuisine and wine with a tour package from Roots & Vines
BEST place to visit in South Central – Osprey Park is surrounded by upscale boutiques and independent art galleries
South Central is located just south of Downtown and is a much more peaceful area within the city centre than the others! This makes it a great choice if you want to be centrally located but want to avoid the heavy tourist crowds. It also provides easy access to the bus terminus, as well as the main road through the city.
Whilst it doesn't have much to offer in terms of tourist attractions, South Central has a lot of local charm that will give you a more authentic experience in Kelowna! Stretching from the lake to the Central City district, South Central has a diverse range of dining and shopping destinations to keep you entertained.
More Awesome Things to do and see in South Central
Head to Gallery 421 – an upmarket art gallery offering a great selection of pieces from local, national and international artists
Guisachan Heritage Park is a historic garden that is the perfect spot for a relaxing stroll to unwind from a long day of exploring
Lebanese Cuisine offer cooking classes where you can learn to cook dishes from the small Levantine nation – a great example of multicultural Kelowna
Millbridge Park lines the river in the north of the area and is a popular spot for locals looking to enjoy a calm stroll in the city centre
Based in Millbridge Park, Desert Salmon Charters offer boat tours along the river, as well as boat hire and fishing equipment facilities
Head to the Waterfront Cafe and enjoy a sumptuous breakfast using locally sourced ingredients with views across the lake
Best Budget Hotel in South Central
As the name suggests, this bed and breakfast is located right next to the bridge across Lake Okanagan – giving you easy access to South Central, Downtown and even West Kelowna! Rooms are basic, but well equipped for a short stay in the city. Air conditioning is available throughout, as well as complimentary high-speed WiFi access.
Best Mid-range Hotel in South Central
Stirling House is a cozy bed-and-breakfast with a super warming and welcoming atmosphere. The hotel is furnished luxuriously but with touches that make you feel as if you're at home! Along with the staff are incredibly friendly and are more than happy to help you navigate your way through Kelowna.
Best Luxury Hotel in South Central
Situated in South Central Kelowna in a prime location just across from Hot Sands Beach, Prestige Beach House offers a range of luxurious facilities, including a heated indoor pool, fancy on-site dining along with a hot tub and gym. The hotel also offers a range of rooms option all of which are furnished with sleek granite bathrooms and cute balconies.
The Best Travel Backpack EVER MADE!?!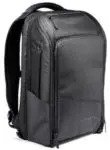 We are obsessed with backpacks – we've tried them all! And our favourite carry on backpack in the WORLD is the Nomatic Travel Backpack. This backpack has revolutionized the backpack industry and will change the way you travel forever :) Check it out here!
Neighborhood #3 – Downtown
Where to stay in Kelowna for nightlife!
COOLEST thing to do in Downtown – head to City Park in the winter to enjoy their ice rink, and in the summer for their waterfront skatepark!
BEST place to visit in Downtown – Okanagan Heritage Museum displays the region's history and natural beauty in a series of well-curated exhibits
Downtown Kelowna is the heart of the city and where you will find most of the entertainment and nightlife venues! Though the city isn't really much of a nightlife destination, there are still plenty of interesting bars and clubs – especially along Lawrence Avenue. This area comes alive on the weekends as locals let their hair down after a busy week.
Even if you aren't into nightlife, there are still plenty of fantastic attractions in Downtown. It is home to the largest park in the city which has some fantastic facilities to delight a wide variety of guests! Downtown is also home to the city's culinary scene, where you can sample dishes from across Canada and the world.
More Awesome Things to do and see in Downtown
Visit Sapphire Nightclub, the most popular nightlife venue in the city with regular DJ nights and great prices on drinks
For something a little more upmarket, head to Liquid Zoo – they're known for their fantastic cocktails and ambient vibes
At the Downtown Merina, you can enjoy magnificent views across the lake, as well as hire boats, kayaks and watersports equipment
The gorgeous Kasugai Japanese Garden is one of the most authentic gardens of its kind in Canada and has an incredibly relaxing atmosphere
Okanagan Spirits Craft Distillery is a fantastic activity for larger groups that want to learn about alcohol production and sample some of the finest liquor in the city
Most of the best restaurants are based along Water Street – we recommend Raudz Regional Table to get a good idea of the city's international flair
Want to see all of Toronto? Get started with accommodation in Toronto's best neighborhoods!
Best Budget Hotel in Downtown
Though the rooms are fairly basic at this small hotel, there are some great shared facilities that make you feel like your money is going further! There's an indoor pool, as well as hot tub facilities where you can relax after a long day of exploring. They also provide a Canadian style breakfast every morning.
Best Mid-range Hotel in Downtown
A super modern hotel situated just outside of Downtown Kelowna, Hyatt Place Kelowna offers some fantastic facilities for its guests. This includes a tasty restaurant, a sunny terrace area, as well as a heated indoor pool.
Best Luxury Hotel in Downtown
This downtown Kelowna hotel has a fantastic location just a short walk from Okanagan Lake and has some fantastic luxury facilities. This includes 2 fancy on-site restaurants along with a spa and wellness area featuring massages and beauty treatments, a state-of-the-art fitness room and an outdoor pool.
Will you also visit Niagara Falls? Check out where we like to stay in Niagara Falls!
Neighborhood #4 – West Kelowna
Best neighborhood in Kelowna for wine!
COOLEST thing to do in West Kelowna – climb up Mt Boucherie for magnificent views across Lake Okanagan and towards Kelowna
BEST place to visit in West Kelowna – Beaumont Family Estate Winery is one of the largest vineyards in the area – perfect for first timers
No trip to the heart of British Columbia's Wine Country would be complete without a trip to a vineyard – and West Kelowna is the place to be to dive deep into viticulture in the region! Though technically a separate city, West Kelowna is connected with Kelowna proper by bridge, traversing the entire width of Lake Okanagan.
As a fairly remote part of the city, West Kelowna has a more laid-back atmosphere and is a great place to soak up the beautiful nature that the Lake Okanagan region is known for! There are plenty of excellent hiking trails throughout the town, and the restaurants have a much more local feel than those in Kelowna.
More Awesome Things to do and see in West Kelowna
Mission Hill Family Estate Winery is another fantastic wine facility – located right on the side of the mountain, they offer some fantastic wine tasting experiences
Head to Paynter's Fruit Market to pick up some bargains on local produce whilst you mingle with locals and other travellers alike
Pritchard Park is a vast green space that connects West Kelowna with Westbank – perfect for soaking up the fresh air and beautiful lakeside scenery
Westbank Museum and West Kelowna Visitor Centre details the history of this region – from it's farming roots to the modern wine culture
Truck 59 Ciderhouse is a great break from all the wine tasting – check out their huge orchards and learn about the burgeoning cider industry
Terrace Restaurant offers magnificent views across the mountains and an upmarket menu – perfect for couples in the area
Best Budget Hotel in West Kelowna
Whilst there aren't any hostels on this side of the lake, Super 8 are known for their budget friendly comfort across North America and their West Kelowna offering is no different! It is located just off the main highway that connects the two cities – perfect for easily exploring the main attractions across the region.
MUST READ! We've organized the best places to stay in St. John's for all types of trips!
Best Mid-range Hotel in West Kelowna
Best Western are also known for their budget friendly comfort – but this hotel is definitely a little more of an upgrade! It comes with an indoor pool and a huge water slide, as well as high speed WiFi access and a complimentary breakfast every morning. Rooms are well equipped with modern technology and luxury toiletries.
Best Luxury Hotel in West Kelowna
The name says it all – this is one of the best B&Bs in the region if you are looking for spectacular views across the lake! This four star B&B is particularly well favoured by couples visiting the area thanks to the romantic atmosphere in each of their rooms. They also provide a complimentary breakfast and parking facilities.

If you are traveling you should ALWAYS have emergency cash hidden on you! Security belts are great because they are affordable and can fit a ton of stuff in them (great for peace of mind!). Check out our favorite travel belt!
Neighborhood #5 – Penticton
Best neighborhood in Kelowna for families!
COOLEST thing to do in Penticton – learn how to wakeboard with Wake Up Water Sports, located right on the lake
BEST place to visit in Penticton – the S.S. Sicamous Inland Marine Museum has some fantastic exhibits about marine culture along Canada's lakes
Nestled on the southern tip of Lake Okanagan, Penticton is a completely different city from Kelowna – however still remains well connected to the city, as well as to the surrounding towns in the region. This makes it an ideal option for families looking for a relaxing getaway in the Lake Okanagan area.
What also makes it appealing for families is its diversity of attractions! Whilst there are still plenty of vineyards to explore, Penticton also offers some great alternatives for those that are here for the scenery and adventure activities. With a little something for everyone, all kinds of travellers will be able to enjoy a quick getaway to Penticton.
More Awesome Things to do and see in Penticton
Penticton is known as the home of golf in the Lake Okanagan area, with multiple courses available – our favourite is Pine Hills
Skaha Climbing Bluffs offer some fantastic rock climbing opportunities for experienced climbers – and local tour guides offer lessons for those new to the adventure activity
River Channel is the main waterway running through the city – hire a boat and take a leisurely ride down the river whilst taking in the sights
Bonitas Winery is the main vineyard in the area – though there are several others offering tours, tastings and even cultural events
You can't miss Hooded Merganser, a local restaurant that is located out on the lake, with its own private walkway – they are known for their seafood
Munson Mountain Park is filled with great hiking trails – with some simple paths for families with young kids, and more adventurous treks for experienced hikers
Need to save money? Check out the cheapest hostels in Toronto!
Best Budget Hotel in Penticton
This basic motel might only come with two stars – but it has some fantastic facilities, great guest ratings and unbeatable views of the surrounding mountains! It is only a short walk away from the waterfront, giving you easy access to all of the main attractions in Penticton. They also provide free WiFi and private parking.
Best Mid-range Hotel in Penticton
The famous chain of Marriott boasts the perfect mid-range accommodation option in Penticton with this 3-star hotel. The hotel features deluxe and modern rooms along with a range of fantastic facilities including an indoor pool, fitness center, and hot tub.
Best Luxury Hotel in Penticton
This four star hotel is located right on the waterfront – perfect for families that want to sit back, relax and soak up the chill atmosphere of Penticton! It also comes with a private beach where you can enjoy the seaside facilities without the business of the public beaches. A full Canadian style breakfast is provided every morning.
Traveling on a budget? Have you seen our cheap hostel recommendations for Vancouver?
Final Thoughts on Where to Stay in Kelowna?
Kelowna is an interesting city that provides travellers with the perfect gateway to British Columbia's Wine Country and the beautiful scenery of the Lake Okanagan area! Often missed by foreign visitors, it is well worth considering on your Canada itinerary if you want something laid back, though with plenty of adventure options available.
For the best area, we are going to go with Downtown! Well connected with all other parts of the Lake Okanagan region, it also comes with some fantastic attractions in its own right and is by far the liveliest part of the area.
That being said, each neighborhood mentioned in this guide has its own charms. We hope we have helped you to plan your upcoming trip to Kelowna.
Did we miss anything? Let us know in the comments!
***Disclaimer*** Some of the links in this post are affiliate links. This means that if you book your accommodation through the site, One Weird Globe will earn a small commission at no extra cost to you. Your support helps me keep the site going :)
Latest posts by Clair Ricketts
(see all)