As the largest city in Bavaria, Munich is a popular city with visitors during the Oktoberfest season! Outside of the annual beer festival, the city is also packed with great historical and cultural attractions, making it a necessity on any itinerary to Germany.
Munich is quite a large city, so figuring out where to stay can be tricky. Moreover, it is also the most expensive in the country – so you need to pick somewhere that suits your budget whilst in the city.
That's where we come in! We've created this guide to the seven best areas of Munich to make planning your itinerary a breeze. Whether you want nightlife, culture or budget-friendly havens – we have you covered.
So let's jump right into it!
Quick Tips – Where to Stay in Munich
Where to Stay in Munich
Looking for a specific place to stay? These are our highest recommendations for places to stay in Munich.
Best Budget Hotel in Munich
Boasting modern facilities and with a friendly atmosphere, this hotel is the perfect place to stay on a budget in Munich. Despite only having a two-star rating, the hotel has some great added perks, including a complimentary breakfast buffet every morning.
Best Mid-range Hotel in Munich
Nestled in the desirable Maxvorstadt district, Flatista Boutique Hotel is a modern hotel with cool facilities. Adorned with contemporary decor, the rooms are brightly lit and each comes with a private en-suite.
Best Luxury Hotel in Munich
Situated in the Isarvorstadt neighborhood, the Sofitel Munich Bayerpost is an exquisite five-star hotel, perfect for those looking for a luxurious stay in the city. Guests can indulge in the top-of-the range spa facilities, featuring a sauna and an indoor swimming pool.
Munich 7 Best Neighborhoods to Stay in
Let's take a look, in more detail, at the five best neighbourhoods in Munich. Each caters to different interests, so be sure to pick the neighbourhood that's right for you.
Neighborhood #1 – Maxvorstadt
Best neighbourhood in Munich for your first time!
COOLEST thing to do in Maxvorstadt – visit the Munich Volkstheater to watch a modern take on a classic show
BEST place to visit in Maxvorstadt – visit the Glyptothek where you can marvel at the large collection of Greek and Roman sculptures
Just north of the Altstadt, Maxvorstadt has a calmer atmosphere, whilst still holding many of the city's major attractions! This makes it the ideal starting point for those visiting the city for the first time. Maxvorstadt is primarily known as the cultural heart of Munich, with its wide range of art galleries and entertainment venues.
Beyond the creative attractions, Maxvorstadt also has an excellent nightlife scene that seemingly never ends! This is the place to be if you want your standard big city bars and clubs. It is also a great spot for history buffs, thanks to the museums exhibiting Greek and Roman antiques.
More Awesome Things to do and see in Maxvorstadt
Head to the Pinakothek Art Galleries where you can admire world-famous art pieces from across the world – including Van Gogh and Dürer
Dine at the Vorhölzer Forum – they have a sizeable cafe inside with impressive views across the city and even as far as the Alps!
No trip to Munich is complete without a visit to one of the many beer halls – check out Augustiner Keller, one of the oldest in the city with an impressive beer garden
For a more interesting dining experience, the Electric Elephant offers fantastic local fare set to techno beats by artists from across Germany
Königsplatz is the main square in the area where you can enjoy the classical atmosphere and soak up the hustle and bustle
Best Budget Hotel in Maxvorstadt
Also located close to the train station, Smart Stay Hotel is ideal if you are arriving late or are only in the city for a short stay! They offer single, double and twin privates, giving you some privacy. There is a bit of a backpacker vibe, which provides a great setting for mingling with others.
The sights in Munich are amazing – check out the coolest tours in Munich!
Best Mid-range Hotel in Maxvorstadt
Flatista Boutique Hotel is a beautifully modern hotel situated in the sought-after Maxvorstadt Hotel. All the rooms are modernly decorated and brightly lit by natural daylight and are all equipped with private en-suites.
Best Luxury Hotel in Maxvorstadt
This five-star hotel is perfect for a luxurious stay right in the heart of Maxvorstadt! They have an award-winning spa, indoor pool and fully soundproofed rooms. The on-site restaurant serves high-quality cuisine and comes with a terrace. They also provide a continental breakfast and free parking.
Check this out! These are the top areas to stay in Nuremberg, Germany!
Neighborhood #2 – Altstadt
Where to stay in Munich close to everything!
COOLEST thing to do in Altstadt – climb the tower of Peterskirche to discover mesmerising views across Munich
BEST place to visit in Altstadt – Marienplatz is the central square in the city surrounded by gothic architecture and great attractions
As with most Germany cities, the Altstadt is the historic centre of Munich and the best choice if you want to be based centrally! This is the area where you can discover medieval streets, gothic architecture and traditional Bavarian culture. Altstadt is the main hub for tourist activity in the city and a great starting point.
Beyond the picturesque cobblestones lies a wide range of great restaurants and bars where you can sample typical Bavarian cuisine and, of course, beer! There are also some great markets and boutiques for shopaholics in the area. Getting around is made easy by the train station just west of Altstadt.
More Awesome Things to do and see in Altstadt
Visiting during the festive season? Christkindlmarkt is the main Christmas market in the area, located right on Marienplatz
During the rest of the year, Viktualientmarkt is the best market in town offering a great selection of fresh food, pre-prepared snacks and trinkets to take home
Admire the quaint clock show from the Glockenspiel – twice daily, it depicts the history of the city through music and figurines
For some upmarket dining, head to Brenner – located within a former royal palace, they offer a great selection of Mediterranean cuisine
Hofbräuhaus is a little bit touristy, but a great place to experience stereotypical German beer culture – complete with oompah bands!
No plans tonight? Check into one of Munich's party hostels for more than just a place to sleep!
Best Budget Hotel in Altstadt
Despite officially being a two-star hotel, this accommodation has a modern and sophisticated vibe! They provide a complimentary breakfast buffet every morning, as well as iPads with booking functions at the front desk. Rooms are well decorated with modern conveniences, as well as large bathroom suites and workspaces.
Travel can be expensive! But then again, Hamburg's cheap hostels will show you how little it can cost!
Best Mid-range Hotel in Altstadt
This 3-star and very modern hotel is situated in one of the best locations in the city in the heart of Munich's Old Town, meaning it is just a 3-minute walk from the famous Marienplatz square. The hotel also has a variety of sleek and contemporary room options, all of which come with boutique en-suites.
Best Luxury Hotel in Altstadt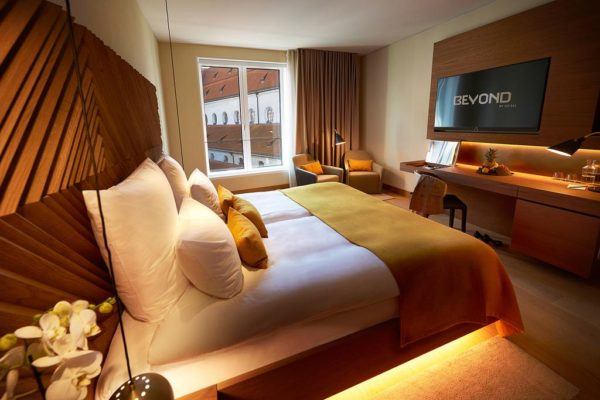 The highest rated five-star hotel in Munich, BEYOND is the pinnacle of luxury in the city! All rooms come with gorgeous views of the city and are kitted out with luxurious furnishings. There is a full concierge service, as well as high-speed WiFi throughout. A continental breakfast is provided every morning.
The Best Travel Backpack EVER MADE!?!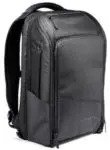 We are obsessed with backpacks – we've tried them all! And our favourite carry on backpack in the WORLD is the Nomatic Travel Backpack. This backpack has revolutionized the backpack industry and will change the way you travel forever :) Check it out here!
Neighborhood #3 – Glockenbach
Where to stay in Munich for nightlife!
COOLEST thing to do in Glockenbach – head on the Munich Cocktail Crawl for a break from the local beer
BEST place to visit in Glockenbach – visit the Glockenbach Community Centre to catch local events and performances
Though technically part of the Isarvorstadt neighbourhood, Glockenbach has some great attractions in its own right and is the best location if you are seeking modern and innovative nightlife! Though the city centre has all the beer gardens and larger clubs, Glockenbach has excellent cocktail bars, techno clubs and modern restaurants.
The area has a very cosmopolitan feel, taking influences from the various cultures that reside within Munich! Staying in Glockenbach gives you the opportunity to see contemporary Munich life. It is also the location of the main LGBTQ+ district – perfect if you want to hit the gay bars.
More Awesome Things to do and see in Glockenbach
Stroll down Müllerstraße – during the day it is lined with restaurants, and in the evenings it is the beating heart of the area's nightlife
Visit Zephyr Bar to sample innovative cocktails and soak up the laid back atmosphere of Glockenbach nightlife
For a more vibrant atmosphere, head to the High where you can enjoy cheaper cocktails and dance to the latest hip hop beats
Unwind in Gärtnerplatz – a major square in the area surrounded by flowers with a calm atmosphere
Beat the hangover at Del Fiore with excellent Italian espresso and gelato on offer
Editor's note: Save a bit of cash in Berlin with our guide to budget hostels in Berlin!
Best Budget Hotel in Glockenbach
This is the most central hotel in Glockenbach, placing you smack bang in the middle of the best nightlife district! They provide a complimentary buffet breakfast every morning – helping you to beat those hangovers. It is very well rated by previous guests thanks to the excellent standards of service.
Not sure where to start when you arrive? Our article on things to do in Munich can help you schedule your days!
Best Mid-range Hotel in Glockenbach
The Flushing Meadows Hotel is a beautiful 4-star hotel that features individually decorated studios, with urban interiors inspired by modern artists. One of the best features of The Flushing Meadows Hotel is its exclusive rooftop bar, which has great views of the city. Here you can sit back and relax with a hand-crafted cocktail whilst watching the sunset set over the nearby neighborhood.
MUST READ – Heading to Berlin next? Check out our post about some of the most fun day trips from Berlin!
Best Luxury Hotel in Glockenbach
This elegant hotel is situated right on the banks of the river, giving you marvellous views to wake up to every morning! There is a large spa on-site offering a variety of health facilities and holistic therapies. The hotel also comes with a 24-hour gym and free WiFi.
Why are boutique hotels all the rage right now? Find out with this guide to boutique hotels in Munich.
Neighborhood #4 – Haidhausen
Best neighbourhood in Munich for families!
COOLEST thing to do in Haidhausen – enjoy a classical music performance from the Munich Philharmonic Society at Gasteig
BEST place to visit in Haidhausen – Deutsches Museum is one of the best science museums in the world – perfect for a day out with the kids!
Located on the opposite side of the river from the city centre, Haidhausen has a calmer atmosphere than the Altstadt – making it the perfect choice for families visiting the city! Known locally as the French Quarter, the area is defined by quaint architecture and family-friendly activities.
It provides easy access to all of the major attractions in the centre thanks to fantastic public transport. It has plenty of sights in its own right – including the world-famous Deutsches Museum exhibiting scientific and technological advancements from across the world! Easy going and friendly, Haidhausen is the best choice if you're travelling with kids.
More Awesome Things to do and see in Haidhausen
Flaucher is a popular gathering spot during the summer where you can enjoy bathing in the river, or simply relaxing in the sun
For a great meal, head to Preysinggarten – they have a welcoming atmosphere, great Mediterranean dishes and a good selection of vegetarian cuisine
Admire the gorgeous display of Art Nouveau works – as well as the architecture of the building itself – at Villa Stuck
The Bavarian Public Observatory Munich has some great exhibits about space as well as powerful telescopes in the evenings
Jazzclub Unterfahrt is a popular nightlife venue in the city offering live jazz performances and well-priced drinks
That's not all! We have more hostels around Frankfurt Airport for you to check out!
Best Budget Hotel in Haidhausen
This elegant motel is only a short walk from the Eastern Train Station, keeping you well connected to the city centre and further afield in Bavaria! Rooms are kitted out with all the mod cons, and a buffet breakfast is provided every morning. They also offer granite bathrooms and air conditioning.
Going to Hamburg? This guide on fun stuff to do in Hamburg hits all the highlights!
Best Mid-range Hotel in Haidhausen
Though there aren't any hostels in Haidhausen, mk hotel münchen is a great basic option for backpackers staying in the area! This two-star hotel is well priced, allowing you to stick to a strict budget whilst visiting Munich whilst still having a little more privacy than you would get in a hostel.
Best Luxury Hotel in Haidhausen
The only five-star hotel in Haidhausen, Hotel München Palace has a quaint, leafy atmosphere – perfect for families with larger budgets! Rooms come with free minibars, marble bathrooms and modern conveniences. There is a sauna on site, as well as a large fitness suite. The hotel restaurant is highly rated by previous guests.
Neighborhood #5 – Isarvorstadt
Where to stay in Munich on a budget!
COOLEST thing to do in Isarvorstadt – take in the largest Oktoberfest festivities in the city throughout Isarvorstadt
BEST place to visit in Isarvorstadt – admire the decadent gravestones of historic Germans at Old South Cemetery
Located next to the Altstadt, Isarvorstadt is another popular area for tourism, with access to the main train station! Frequented by Munich's youth, Isarvorstadt is the perfect choice for budget-conscious travellers looking to revel in the city's atmosphere without having to worry about the notoriously high costs.
With Glockenbach in the south, Isarvorstadt has some great nightlife venues in its own right, with many of them offering cheaper drinks than the larger ones elsewhere in Munich! It is also the home of the largest segment of Oktoberfest celebrations at the end of September every year.
More Awesome Things to do and see in Isarvorstadt
Statue of Bavaria is a monument representing the state – it has great viewpoints from the head, as well as a Hall of Fame at the back
Gärtnerplatz Theatre is the second largest opera house in the city, offering a good selection of local classical music performances
Eat at Bergwolf – a very German takeout restaurant, their currywurst is famous across the country and often held in higher regard than the original version in Berlin!
Niederlassung is a great bar for gin lovers – though if you prefer beer, their monthly picks are often quite cheap
8 Seasons is the main nightclub in the area – popular with the local crowd, they feature live DJs and great drink prices
Price anxiety? We get it too, so we made an article for the best budget hostels in Munich!
Best Budget Hotel in Isarvorstadt
Perfect for creatives, Arthotel Munich is decorated with work from local artists! The elegant rooms have all the mod cons, as well as complimentary high-speed WiFi. Guests on a strict budget can opt for a shared bathroom, however, private bathrooms are also available if you require.
Best Mid-range Hotel in Isarvorstadt
If you want a modern hotel stay at in Munich but with a unique spin, then you need to check out Eurostars Book Hotel. All the rooms at the hotel are stylishly and modernly decorated, but each has handcrafted features dedicated to a famous book. The cool design doesn't just feature if the rooms with the hotel also features a chic lobby bar with floor-to-ceiling windows.
Best Luxury Hotel in Isarvorstadt
This five-star gem is located on the Isarvorstadt side of the train station – perfect if you are only visiting for a short time! They have excellent spa facilities, including a sauna and an indoor swimming pool. A continental breakfast is provided – you can choose from buffet, full English or vegetarian options.

If you are traveling you should ALWAYS have emergency cash hidden on you! Security belts are great because they are affordable and can fit a ton of stuff in them (great for peace of mind!). Check out our favorite travel belt!
Neighborhood #6 – Schwabing
Best neighbourhood in Munich for couples!
COOLEST thing to do in Schwabing – visiting in July? Head to Kocherlball where you can watch locals participate in Bavarian folk dancing
BEST place to visit in Schwabing – wander along the English Garden – the largest green space in the city with heaps of activities
Schwabing is often considered as Munich's most exclusive neighbourhood! Home to some of Germany's most famous figures, Schwabing is perfect for couples looking for a romantic getaway to Bavaria. Just outside of the city centre, it has a laid back vibe whilst still benefiting from classical architecture.
In terms of attractions, Schwabing is packed with artistic activities, romantic restaurants and easy going bars! The huge English Park is perhaps the best-known attraction in the area, with regular cultural events, great facilities and quaint walks it is the perfect place to get away from the bustle of the city.
More Awesome Things to do and see in Schwabing
Take a Munich Bike Tour through the English Garden – they offer group rides, as well as private excursions favoured by couples
Head down to the Eisbach where you can try out river surfing right from the heart of the English Garden
Looking for the perfect date night spot? Luxury at Tantris, offering tantalising dishes designed by one of Germany's best chefs
Chinesischer Turm might seem a bit surreal at first but has an excellent beer garden that combines Chinese kitsch with oompah bands
Travel back in time with Zum Jennerwein – a 60s nightclub that hasn't changed since it first opened many decades ago
Best Budget Hotel in Schwabing
Hotel Leopold has its own private beer garden where you can sample excellent Bavarian beer from the comfort of your hotel! They offer a complimentary breakfast buffet every morning, as well as high-speed WiFi throughout the property. Rooms are well equipped with TVs and large bathroom suites.
Best Mid-range Hotel in Schwabing
The Steigenberger Hotel features a range of cool amenities, including an in-house restaurant and a sociable bar area that serves up a range of craft beer options. Guests can even enjoy a craft beer tasting experience on-site at the hotel which is known for being one of the best in the city.
Best Luxury Hotel in Schwabing
This five-star hotel in the heart of Schwabing is one of the most popular accommodation choices for couples in the city! The modern bedrooms are well equipped and feature luxury furnishings. The rooftop bar has excellent views across the city. There is a large spa area on site with an indoor pool.
Editor's recommendation – 15 awesome hostels in Munich, Germany.
Neighborhood #7 – Neuhausen
Best neighbourhood in Munich for local culture!
COOLEST thing to do in Neuhausen – if you are visiting in the winter, head to Nymphenburg Palace where you can take part in outdoor ice skating
BEST place to visit in Neuhausen – year round, Nymphenburg Palace is surrounded by luxurious gardens that are free to enter
We'll be honest – everywhere in Munich is great for beer lovers, but Neuhausen is the best if you want a more local atmosphere in the beer garden! The entire area has a leafy, suburban atmosphere and has largely remained off the main tourist routes until recently. This makes it the best option for discovering a more authentic side of modern Munich.
Nymphenburg Palace is the centrepiece of the area. Whilst we wouldn't recommend paying the entry fee, the gardens surrounding the palace are free and provide a gorgeous setting to unwind after a day of exploring!
More Awesome Things to do and see in Neuhausen
Museum Mensch und Natur has a very interactive approach to its exhibits, making it a great excursion for all ages
Wasserman is a hidden gem in the heart of Neuhausen, serving gargantuan plates and well-priced beer
The Backstage offers live entertainment at great prices, as well as an adjoining nightclub for a more typical night out
Head to Hirschgarten – the largest beer garden in Europe, it is surprisingly less touristy than smaller gardens in the centre making it great for mingling with locals
Sarcletti is a traditional Italian gelato outlet that has been serving the city for years – it has since become somewhat of an institution!
Best Budget Hotel in Neuhausen
Hotel Nymphenburg is the closest budget option to Nymphenburg Palace, and is distinguished by having the largest collection of Munich posters in the world! Rooms are beautifully decorated, and they also offer serviced apartments for added privacy. There is a car park on-site, as well as a small patio area.
Check this out – these are the wildest and craziest party hostels in Berlin!
Best Mid-range Hotel in Neuhausen
This hotel is situated in a great location in the heart of the sought-after Neuhausen neighborhood which is home to plenty of bustling bars and cute cafes and is also within a short distance of the city center. Novotel Munchen City Arnulfpark also offers some great added touches including a fitness center, free high-speed wi-fi, and a communal sauna.
Best Luxury Hotel in Neuhausen
The main premium option in Neuhausen, arcona LIVING is only a short walk away from Nymphenburg Palace! There is a sauna on-site, as well as a private beer garden for use by all guests. There is also a wine bar and a restaurant, and a buffet breakfast is provided as part of the rate.
Final Thoughts on Where to Stay in Munich?
Famous for its beer gardens and the massive Oktoberfest festivities, Munich has much more to offer visitors. As the beating heart of Bavarian culture, there are some unique attractions across the city – whether you are interested in history, dining or nightlife!
For the best area, we have to go with Isarvorstadt! Well connected to the city centre, it is also flanked by the main nightlife district. Munich is a notoriously expensive city, but Isarvorstadt is packed with budget-friendly attractions.
Nevertheless, this magical city has many great areas – and we're sure you will fall in love with any of the districts mentioned in this list. We hope we have helped you figure out your itinerary for your upcoming trip to Munich.
Have we missed anything? Let us know in the comments!
Editor's Note – No matter where you are traveling, you NEED to have great travel insurance. We have personally tested TONS of travel insurance companies, and can say without a doubt that World Nomads is the absolute best (and most affordable!). Fill out this form to get a quote for your trip to Munich!
***Disclaimer*** Some of the links in this post are affiliate links. This means that if you book your accommodation through the site, One Weird Globe will earn a small commission at no extra cost to you. Your support helps me keep the site going :)
Latest posts by Aiden Higgins
(see all)