Toronto is a metropolis of a city to explore. The capital of the Canadian state of Ontario, skyscrapers jut out from the northwestern shore of Lake Ontario – and the iconic CN Tower provides amazing views of all of it.
But this is Canada. And in Canada, you're never too far from somewhere amazing, whether it's an impossibly charming, historic town, or a slice of the magnificent nature that this country is known for.
So to help you escape the busy city and its overpowering towers, we've created a guide to the best day trips from Toronto. There are some great options for families here, as well as for couples. And if you're travelling on a budget – don't worry, we've got you covered, too.
Ready to get yourself hyped for a trip to the city just so you can go on these Toronto day trips? Then have a look below…
Editor's note – Check out our 11 best hostels in Toronto and find a place to stay that suits your style!
Quick Answer: Best Day Trips from Toronto
Best Places to Stay in Toronto
Sat along the edge of Lake Ontario, Toronto is a booming metropolis dotted with skyscrapers and scenic streets. Here's a selection of the top places to stay in Toronto so you can enjoy the city in all its glory and get out and about on amazing day trips easily, too.
• Best Hostel in Toronto •
This fun hostel in Toronto provide everydays activities, which makes it easy to make friends and see the city. It is situated in the heart of Downtown Toronto, just minutes from vibrant areas like Chinatown and Little Italy. The Bay Street Bus Terminal, ideal for day trips, is a short walk from here.
• Best Budget Hotel in Toronto •
     Top choice for music fans
Get stuck into the energy and history of the city and book yourself into the best budget hotel in Toronto. The hotel has its very own jazz and blues bar where you can spend evenings rubbing shoulders with locals and musicians alike. The tram and subway stop right outside the front door is super convenient for day trips.
Traveling on a budget? Have you seen our cheap hostel recommendations for Toronto?
• Best Luxury Hotel in Toronto •
Just steps from the Bay subway station, this high end hotel in Toronto is location in the upscale area of Yorkville. The landmark boutique hotel boasts chic and sophisticated guest rooms and marble bathrooms to match. The surrounding streets are alive with shops, cafes and restaurants to indulge in.
Looking for a villa? Check out these AMAZING Villas in St. John's!
#1 Best Day Trip from To

ronto –Niagara Falls
Day Trips from Toronto by Train
Train trip to Niagara Falls, USA

Ride the Maid of the Mist

Panoramic view of the falls
Would any trip to Toronto, or even to Canada, be complete without visiting the wonder of the world that is Niagara Falls? The answer is no, and thankfully you get there easily on a day trip from Toronto by train.
Niagara Falls is actually three waterfalls; from smallest to biggest they are the Bridal Veil Falls, the American Falls and the Horseshoe Falls. Famed for its beauty, this area is a must-visit, if only to witness the power of nature at work as millions of cubic feet of water tumble over the falls every minute.
On this amazing day trip from Toronto to Niagara Falls, you'll get to go on the famous Maid of the Mist boat that goes right up to the falls themselves. Note: you will get wet, so do put on the complimentary poncho.
You'll also get an amazing panoramic view of the falls from the Niagara Falls Observation Tower, which simply screams photo opportunity.
The Best Travel Backpack EVER MADE!?!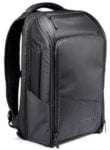 We are obsessed with backpacks – we've tried them all! And our favourite carry on backpack in the WORLD is the Nomatic Travel Backpack. This backpack has revolutionized the backpack industry and will change the way you travel forever :) Check it out here!
#2 – Stratford
Historic city

Easy train ride

Visit for the Shakespeare Festival
Stratford is a great choice for anybody interested in getting out of the city for a day and exploring a different sort of city completely.
Named after Stratford upon Avon in England, the city of Stratford was settled by mainly British and German immigrants in the mid-1800s. The historical roots of the city make for some pretty amazing examples of Victorian architecture.
Gawp in wonder at the ornate Perth County Court House, and go check out the grand Stratford City Hall, amongst other landmarks.
But most famously, Stratford is known for its Shakespeare Festival. Anybody interested in theatre should make the day trip from Toronto to Stratford from April to October when the festival is up and running, and many plays can be seen in the city's many theatres.
Just over two hours from the city, a day trip from Toronto by train to Stratford is a great idea for fans of drama or history.
Going to Toronto? This guide on fun stuff to do in Toronto hits all the highlights!
#3 – Kitchener
Explore a historic city

Find Kitchener's German heritage

Celebrate Oktoberfest!
For a great day trip from Toronto by train, catch the high speed VIA Rail 85 towards London and you'll be in Kitchener in an hour and a half. Previously known as Berlin – celebrating its German heritage – the city changed its name to Kitchener (after the famous British Army officer) in 1916 at the height of the First World War.
As such there are many landmarks in Kitchener that reflects the city's German roots. There's the Joseph Schneider Haus, for example, built by early settlers and still standing today as Kitchener's oldest dwelling.
Elsewhere in the city, you can visit the Woodside National Historic Site, the former home of Canada's 10th (and longest service) Prime Minister.
Visit Kitchener in October and you'll be rewarded with Oktoberfest, a nine-day celebration based on the original, German Oktoberfest, which would definitely make for a fun day trip from Toronto. Festivities include a free pancake breakfast and a 5K fun run.
Edmonton is incredible! There are tons of things to do there!
Staying Safe in Toronto
While Toronto is super safe, no matter where you are traveling, you NEED to have great travel insurance. We have personally tested TONS of travel insurance companies, and World Nomads is our favorite (and most affordable!).
Fill out the form below to get a quote so you can have a stress-free time traveling around Canada!
Romantic Day Trips from Toronto for Couples
Travel to beautiful Prince Edward County

Delicious food

Wine tasting!
You wouldn't have thought that Canada would be a place to go on a wine tour, but no: there is some delicious wine to be had and you'll find it on Prince Edward County – an island on the north shore of Lake Ontario.
An easy day trip from Toronto to Prince Edward County wouldn't be complete without sampling some of the wine that's up for grabs on this island: as of 2015, there are a whopping 42 different wineries producing wine!
A tour to Prince Edward County is a great idea. Visiting four of those wineries, you'll learn more about why this region is so good for producing wine and, of course, get to taste some wine.
You won't go hungry on this perfect day trip for couples from Toronto either. You'll get pizza and salad – with wine, of course – at the first winery. Wine throughout is paired with cheese and delicious charcuterie boards for the perfect culinary experience.
Editor's Pick – These are the coolest boutique hostels in Toronto (for any budget!)
Travel to an island airport

Amazing views

Helicopter ride!
Helicopter tours aren't exactly the most affordable of trips, but this one is short enough that it's not going to break your bank – and you're still going to get those Instagram worthy views you were looking for in the first place.
Of course, seeing Toronto Harbour from the sky makes for an automatically romantic day trip from Toronto; there's something about seeing amazing views that just them perfect for you and your partner to enjoy.
But to get to where the helicopter takes off from Billy Bishop Airport, you'll start with a cool Toronto day trip in itself: taking the moving walkways under Lake Ontario to the island. If you're a keen birdwatcher you'll like this part, since you might be able to spot some rare species in this protected area.
Then it's time for the main event, the helicopter tour. You'll fly around for eight minutes, but that's more than enough time. At 2,000 feet above the city, looking down at it all, you'll definitely feel that it's a great couples' day trip from Toronto.
Want to see all of Toronto? Get started with accommodation in Toronto's best neighborhoods!
Get to NYC quickly

See the sights of the famous city

Lunch included
The city of New York is close enough to Toronto by any sort of transport, but that distance seems even shorter when you throw an airplane into the mix. So for a great romantic day trip from Toronto head across the border on a plane and be in the very centre of Manhattan by noon!
It's easy to explore this iconic metropolis in a day, thanks to a hop-on, hop-off bus tour. Simply get your ticket, jump on board, then roll off at whatever destinations you want to see the most. Maximising your time this way you and your partner will only spend time on the sights that interest you.
A VIP tour of the Big Apple also includes a lunch at the famous Hard Rock Cafe at Times Square – a landmark of a destination for some big helpings of burgers and whatever else takes your fancy.
And after all that you'll be back in Toronto in time for dinner!
Want to take Toronto to the next level? These incredible tours in Toronto will leave you speechless. 
Day Trips from Toronto with Kids
Boat ride

Amazing scenery

Spot wildlife
For one of the most interesting and chilled day trips from Toronto with kids in tow, you can take a cruise of Toronto Harbour. What's good about this tour is that it isn't just a cruise on the water to admire the cityscape of Toronto – but you get to explore the Toronto Islands, too.
Beginning with a view of the Western Harbour, the boat (complete with knowledgeable guides, of course) will cross the lagoons over into the territory of the Toronto Islands.
Here – also called Toronto Island Park – you and your children will get a chance to spot some amazing wildlife in the wooded Island Bird and Wildlife Sanctuary.
These islands are also full of history as well. For example, there's the Gibraltar Point Lighthouse; dating back to 1808 it's one of the oldest buildings in Toronto, and it comes complete with one of the city's most intriguing ghost stories, too!
Your guides will then show you the Toronto skyline, filling you with facts and information about the most famous buildings that jut out against the sky.
Will you also visit Quebec City? Check out where we like to stay in Quebec City!
#8 – Glen Major Forest
Close to Toronto

Walk in the woods

Perfect for a picnic
For a perfect opportunity to get out into nature with your children on a family day trip from Toronto, hitting up the nearby Glen Major Forest is the perfect idea.
Long popular with mountain bikers as well as keen hikers, the combined area of Walker Woods and Glen Major Forest is over 3,000 acres of prime adventurous forest complete with well-marked trails, making it a great day trip from Toronto with kids in tow.
Wander around the woods, watch your children have fun running through the trees, and – most importantly of all – find yourself a pristine spot for a tasty picnic.
For a breath of fresh air from the city atmosphere of Toronto, you don't need to travel far either: it's less than an hour's drive northeast of the city – so no one's going to get too bored on the car journey, either!
P.S. – Save a bit of cash in Edmonton with our EPIC guide to the incredible neighborhoods in Edmonton!
Explore historic sights

Family bike ride

Toronto skyline views
Nothing quite says family fun like the quintessential family bike ride, does it? So a trip to the Toronto Islands for a bike ride as the sun goes down is something that places itself easily as one of the best day trips from Toronto with kids.
One of the best things about the eastern islands is that they are completely car-free – in fact, they comprise the largest car-free area in the whole of North America, so you can be safe in the knowledge that there will be no car-based accidents while you're out riding.
You and your family will encounter historic sights along the way, quaint cottages dot these lovely islands and so do landmarks, like the Royal Canadian Yacht Club, one of the oldest (and largest) yacht clubs in the entire world, having been founded in 1852!
But the best thing about this family day trip from Toronto is seeing the city skyline gradually light up across the water as dusk falls. A memorable experience for everybody.
Recommended Reading – you can also check out our article about the best places to visit in Canada!
#10 – Wasaga Beach
One of the longest freshwater beaches in the world!

Day at the beach

Easy to reach
There's a reason why Wasaga Beach is hands down the best beach day trip from Toronto. That's because, at 14 kilometres long, it's the second longest freshwater beach in the entire world, which is a claim to fame by itself.
Add to that being very easily reachable from the city (being only about an hour and forty minute road trip), and you have a good reason why this place is extremely popular with just about everybody in the summer!
However, because it's so long – as well as super wide, too – you'll have no trouble finding a spot for yourself and your family, which is why it's one the top day trips from Toronto with kids.
Take a picnic with you to keep things cheap (and much more picturesque, of course), or simply tuck in at one of the many eateries you'll find in Wasaga town itself.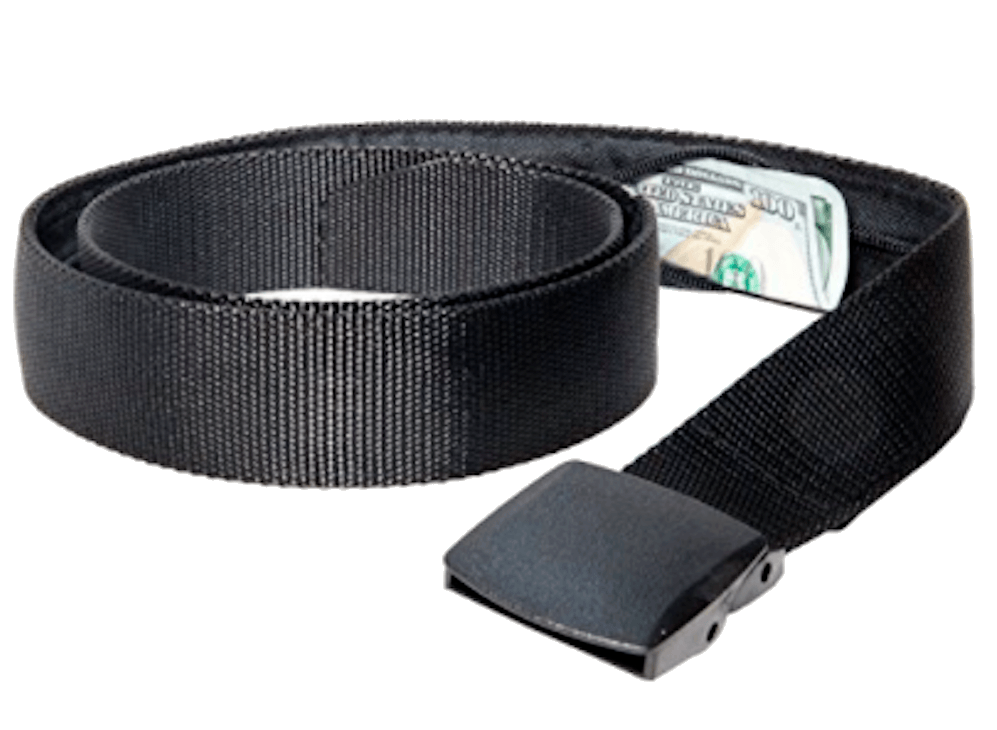 If you are traveling you should ALWAYS have emergency cash hidden on you! Security belts are great because they are affordable and can fit a ton of stuff in them (great for peace of mind!). Check out our favorite travel belt!
Best
Budget

Day Trips from Toronto
Easy to get to

Shop for bargains

Great choices for lunch
What could be better for a cheap day trip from Toronto than getting to go bargain hunting? And where better to go shopping for discounts than at an outlet shopping mall.
Shopaholics take note: Toronto Premium Outlets is no ordinary outlet place. It's the newest, and first of its kind, in Canada, so not only is it packed with all the brands you'd expect, but it's also brand new and modern.
Taking the bus from outside Union Station in the city, on this easy day trip from Toronto you'll travel to Halton Hills – home to this beast of an outlet mall.
You can spend the day here quite literally shopping until you drop. You'll find everything here, from Adidas and Under Amor to Gucci and even Royal Doulton.
Lunch here isn't a problem thanks to a wealth of delicious offerings at this mall's comprehensive food court.
Prince Edward County is Big! Don't be overwhelmed though, check out our no-stress guide to where to stay in Prince Edward County!
#12 – Kingston
Direct train ride

Historic sites to explore

Boat trip around islands
Grab a VIA Rail train for a day trip from Toronto to Kingston and be in a completely different city in two and a half hours. Filled with a generous helping of grand 19th-century colonial buildings, it's a great city for anybody interested in learning about – or at least soaking up – some Canadian history.
Firstly a part of New France before Loyalists fleeing the American War of Independence began settling here, Kingston is awash with heritage. You can visit Fort Henry, Kingston City Hall, even tour around the former prison of Kingston Penitentiary, or simply walk around the city admiring the old buildings.
Then there's the elegant Bellevue House National Historic Site – former home of Canada's first Prime Minister!
For something less historical, you could embark on a boat trip around the Thousand Islands area, breathing in the amazing natural scenery and incredibly fresh air.
Will you also visit Niagara Falls? Check out where we like to stay in Niagara Falls!
#13 – Bronte Creek Provincial Park
Cross-country skiing in winter

Swimming in the summer

Very close to Toronto
A mere 33-minute drive takes you all the way to the Bronte Creek Provincial Park, one of the easiest (and cheapest) day trips from Toronto you're likely to take.
Once you're here the order of the day is simply to explore what the natural surroundings in this 6.4 kilometres squared area have in store for you.
You can visit in the summer months, when there's also a large outdoor swimming pool to splash around and have fun in, and when you'll be able to take one of the many hiking trails that criss-cross this park. If you have your own bike you could probably bike there from the city itself and then enjoy the nature of the park, too.
In the winter you can actually enjoy a spot of cross-country skiing here too!
But for the lack of money involved, a cheap day trip from Toronto to Bronte Creek Provincial Park is great for anybody on a budget – and who wants to get out into nature.
Don't worry! We put together a best cheap hostels in Vancouver article with great budget options!
 Bonus Trip! – Hamilton
Very cheap

Explore waterfalls

Go on a free harbour tour
The city of Hamilton isn't very away: it can be reached easily by car or train, making for a pretty easy day trip from Toronto, and a cheap day trip from Toronto too – especially if you don't spend too much when you arrive in Hamilton itself.
To help you keep to a budget, you can embark on the Waterfront Trolley, a trackless trolley that follows the waterfront (the clue's in the name) along a 12-kilometre route. Exploring the western part of the harbour this way, you'll pass many sights and natural landmarks, and all narrated and hosted by the conductor aboard the trolley. It's free!
Alternatively head on the Bruce Trail that goes over the Niagara Escarpment, which divides the city in two. Along this hiking trail, you'll come across beautiful waterfalls, such as the curtain-style Webster's Falls and the dramatic Albion Falls, for a waterfall hopping day trip from Toronto.
Final Thoughts on the Best Day Trips from Toronto
From simply seeing the towering metropolis from above on an amazing helicopter ride, to getting a train to a relatively far-off city like Kingston to marvel in some truly historic architecture, there's a lot of Toronto day trips to choose from.
Families will love cycling on the islands just off the shore from Toronto, where nature and landmark sights collide on a backdrop of the city skyline, whilst some of the best train trips from Toronto take you not only to some interesting cities but also directly to the Niagara Falls!
We hope you'll find something in our guide that will suit you for when you travel to this storied region of Canada.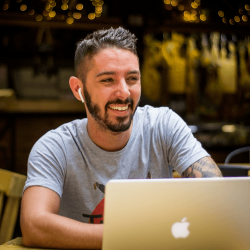 Latest posts by Aaron Radcliffe
(see all)